Emails below have "NOSPAM" added...if you'd like to write anyone below about their experience, just drop the "NOSPAM" from the email address.


Really...this was not a paid endorsement...just another Happy Customer...
Hi Duane….
Thanks very much for making a tough job easy. I had been quoted over $300 to "fix" my PathFinder CD-exchanger, and when I saw your Web site after a search on the problem, I was happy to see that you could do the same thing for much less, with a small amount of work on my part.
Your instructions for removal were perfect, good photos and descriptions made the job easy. Installation was a snap, because I'd already been there (reversing the steps). The quick turnaround once I mailed off the unit to you made it well worth the relatively low price.
After 5 years of listening to "clickity-clickity-click", I'm listening to my favorite artists again, sorry I had wasted time pondering what to do!
I highly recommend your repair process to anyone with the PathFinder 2001 "ERR2" CD Exchanger problem…before you think about going to the local stereo store, dealer, or after-market unit.

Regards,
Al Kilby - al_kilby@NOSPAMmentor.com (remove the NOSPAM for a valid email address)

No Electronic Experience Necessary on the Save My Sanity Program...

Duane,
My radio works great. I removed the after-market unit I had in my Explorer as a quick fix long ago and reinstalled the factory one. As a result, I can use the radio controls on my steering wheel as well as the 6-disc changer in the armrest once again.

The step-by-step instructions and large photographs of the Save my Sanity program made the board switch very easy. The whole thing took five minutes. I am an investment banker, not an electrician or engineer, and this required no special skills or knowledge at all. I recommend your radio fix to anyone (including Ford).

Thanks,
Doug - dmh7s@NOSPAMhotmail.com (remove the NOSPAM for a valid email address)
Washington DC

Feedback from using the Save My Sanity with the DIN tool option...
Duane,
Just finished fixing my radio. Everything went very smoothly. Your website help was awesome! I just sent out my old board and removal tools priority mail with delivery confirmation so you should get them early next week.

Thank You!
Michael McConnell - 88keyster@NOSPAMmchsi.com (remove the NOSPAM for a valid email address)
Dwight, IL

Empowering the people of all ages...
Hey Duane,
I got the new board for my '99 explorer, put it in and it works great! Got my refund today for the old board I sent back to you. What a great program...keep up the good work. You rock!
Thanks again,
Patty - pattyd814@NOSPAMmsn.com (remove the NOSPAM for a valid email address)
Upon asking permission to use Patty's feedback above, here's an additional comment I got...
Hi Duane,
Yes, you may use my feedback on your website but let me add that my husband was impressed as well that his almost 59 year old wife could complete the job with your great instructions.
Thanks again,
Patty - pattyd814@NOSPAMmsn.com
Sequim, WA
Even if you lack soldering skills, the Swap Program is a winner...
Hi Duane,
Can't thank you enough for being in business. I replaced the board in my daughter's Expedition in about 15 minutes and the radio display works fine. Guess my soldering skills are not sufficient to do what you do. I did try it, twice, before I purchased your board, but had no luck.

I sent the old board back today, so you should have it in a couple days.

Thanks again!!
Rick - fillhart@NOSPAMpennswoods.net

The Experience that I Hope Everyone Achieves...
Duane,

I just wanted to send you an email to say thanks again! I wish I had found your solution for the burnt out Mercury radio display a couple of years ago, it worked perfectly and was as easy to install as your advertisements suggested.

For anyone who has been putting up with the blank display and getting various expensive solutions suggested by dealers, salvage yards or others.... you need to talk to Duane! I started with the DIY fix but realized immediately that I didn't have the skill, steady hand or eyesight required to do the soldering myself. Duane painlessly upgraded me to the "Save Your Sanity" solution and even credited me for the first $20 I spent! The new board arrived quickly and within 20 minutes I was up and running with a full display!

As well as a cost-effective solution that works you get good instructions, great communication and (in my opinion) genuine interest in making sure you are a satisfied customer. I highly recommend that anyone looking to fix their blank radio display give Duane a try, I believe you will be very happy that you did.

Dave Thomas - Mandarindave@NOSPAMaol.com
Jacksonville, FL

Saved over $150 and Satisfied...
Duane,
You can add me to your list of extremely satisfied customers. Like many others, it was over a year that the display in my wife's 2000 Mercury Mountaineer was going bad. I took it to the dealer and they could not fix it, instead giving me the lame brame excuse about preprogramming the stations and leaving it that way or paying over $400 for a new radio. I did not desire to cough up $400+ for a new radio. I recently bought my wife a Lincoln Aviator and I am now driving the Mountaineer. I could not drive without the display it was driving me crazy. I surfed the web and I was about to buy a new radio for about $250 when I came across your web site. You have saved me over $150 and I am very happy. Keep up the great service and work.

Satisfied Customer
Peter Farquharson - pfarquharson@NOSPAMbuckeye-express.com
Rossford, OH.

Follow up on the Radio Repair Service...
Duane,
I wanted to sent you an E-mail and let you know how you are doing. I elected to buy of the new boards from your company. I received the new board promptly in the mail. I was experienced in removing Ford devices (Heater/AC controls in '94 T-Bird) and I had the removal tools. The radio removal was the most tedious taking 20 minutes and my wife's help.

Your Website instructions were well worth the money and made things so easy. After completion of the power supply installation and generally inspecting the radio for any dust and dirt (none) I was off to slip the radio back in. As confident I was so far, I installed the radio and then powered it up and Wah-LA...there was the "12:00" in the display. Your instructions with the RDS function came in handy too. I have misplaced my Ford Radio book but everything is working great, RDS function is working and my wife is very happy.

I returned the old board on the 10th and had my refund on the 13th. Could not have asked for anything better. I would recommend your company to anyone.

It won't be to much longer and I will be ordering a console cover. Mine has a crack and the problem is developing.

And "Thanks" again for the other instructions on my 1988 Ford Pickup. It is so nice to see the time and radio station you are on. Now if I could get the drivers window to quit getting stuck at the top.

Thanks again,
Jim - bluoval@NOSPAMcox.net
Norman, OK

Thanks for the comments. Keep them coming...I love showing them to my wife...though, I think she gets tired of the ego it gives me...
Duane,
You are awesome. Worked like a charm. Great online purchase, packaging, delivery, instructions, everything was perfect. You are a genius. Thanks for everything. Post me on your web site as a testimonial if you want.
Thanks again,
Joe Thyer - joseph.thyer@NOSPAMhbo.com

Having 2 girls to raise, I love getting these emails that highlight "Girl Power"...
Duane,

Thank you so much for your Swap Board Program. We have a 2000 Nissan Quest and the display has been out for two years. This is my husband's vehicle and he deployed last year and I had to drive the van so it would not just sit. It was so annoying to me not to see the display. After seeing your web site about 6 months ago, I knew it could be fixed. The only problem was who was going to fix it. I finally got up the nerve to order the swap board and as it was on it's way, I spent time giving myself reasons why I can't do it. I received the board last Friday. I got up the nerve on Saturday to get it done. I want to thank you for the clear instructions, the mission was successful. I had the radio out, board replaced, and back in the van in an hour. First thing Monday morning I sent the old board to you.

When my husband comes home, he is going to be surprised. First of all the display now works and I now have the confidence to put new speakers in the van for him.

Kathy
XGIJane@NOSPAMaol.com

What a former Ford Automotive Technician says (by the way, you don't even need to know what a resistor is to do this repair...the pictures show you what you need to know)...
Dear Duane,

BIG THANKS! Your instructions were perfect - I skipped most of the solder points and went straight to the resistors marked in yellow in your diagram. Paid at 5:10 PM... radio back in truck and working perfectly by 5:36 PM. Radio fixed in only 26 minutes (includes time to email you, too)

BTW, I am a former Ford automotive electrician.... your instruction diagrams are better than the ones Ford provides its service technicians.

Again, THANKS!

Best regards,
Stuart Winsor
stuart@NOSPAMgdzer0.com


As this customer claims "100% 'STERLING' service"...
Duane..
Thank you very much for a fix to a very annoying problem with my radio. Everything from start to finish has been first class. The ordering process, shipping, installation instructions, return mailing prep. I can not believe how quickly the swap went. Removed radio,changed the board, re-installed radio, set the clock, programmed the stations, and return mailed the board and tools in one hour and ten minutes !!!
I live only two blocks from the post office. What can I say "Ya Hoo", my display works. Thats just too cool. My son,( he's 13) said "Wow Dad", I guess that means it was OK. You should have the tools and old board by now.
Again, thanks for everything. I have been telling everyone I know about
your "SUPER SERVICE".

Creig W.

Take 20 minutes, be reunited with your green, glowing radio display...
Duane,
I got the board in the mail yesterday. Yanked out the radio and put the new board in
place. Back in the dash and WA-LA..... I love the way it actually shows what radio station i'm on now!! The whole thing took less than 20 minutes. Thanks for the fix!! The old boards on it way back in the mail later today.
Darrell - dj__13@NOSPAMhotmail.com

How to make your woman happy...
Duane, we are making sure everyone we know knows about your service. my husband put that thing together slapped it in the car and voila it worked! thanks for your good service. we are 100% satisfied.
katy ritz-beck - katylady913@NOSPAMsbcglobal.net

Become the Master and Commander of your World...
Duane--
Thanks to you, I've fixed my wife's radio, saved hundreds of dollars, bolstered my self esteem, and now, I am again, the Master and Commander of my World. Thanks!

reidr@NOSPAMatt.net

Two years of frustration resolved in only a few minutes with the Save My Sanity Board Swap...
Hi Duane,
Just to let you know that last night, 9:13PM I started changing the Board and by 9:33PM I was back inside the house with a big smile on my face. it worked as described.
F
inally after almost 2 year I got my radio back. I will be sending back the old board soon (today or tomorrow)
.
Thanks very much
Reinaldo Cerdeira
- reinaldoc@NOSPAMiadb.org

This is what this web site and service is all about...
Duane,
Thanks for the quick and accurate response. The link you sent was the
exact radio as the one in my 2000 Expedition. Thanks for taking the time to
create an option for people like me to try and fix our own radios instead of
getting gouged by the Ford dealerships or radio repair shops. Now for my
story. Our 2000 model Expedition front panel display started acting up about
six months ago. Sometimes it was on when the car was started, then
gradually faded out. I could push on the display on occasion, and it would
come back on, only to go back off after a few minutes. Eventually, it got
to where it would never come on. All other radio functions worked fine. I
had talked to the service dept. at the Ford dealership nearest my home, and
was told the same crap as they tell everybody else, "we are not aware of any
defect in the radios, and we do not repair them. You can buy a new one, or
give the radio to a private radio repair man that comes by in the evenings.
He will take the radio, repair it if possible, and bring it back". Cost
estimated at $150.00 to $250.00. Time factor could be a week, to who knows,
a year? We finally got tired of the problem and decided to get it fixed.
Anyway, I did not see any other option than to remove the radio and take it
to the dealership. I had already taken my radio out and was planning on
taking it to a nearby dealership for repair. I'm the kind of person who
likes to do my research and have my "ducks in a row" before spending my
money, so I did some surfing on the net about the subject. Of all the sites
and forums I found, several knew of the solder fix for my problem, but the
only one I could find that offered a step-by-step solution with detailed
pictures was
www.shareamemory.com/radio . I am no soldering expert, but I
am pretty mechanically inclined, so I decided to tackle the job by myself.
I am very skeptical about purchasing anything over the internet, but I
decided to take the risk to save some money. I went to the website and for
$20.00 (cost for the instructions) plus the solder (I already had the
soldering iron) and solder removing braid, I was able to repair the radio
(under $30.00 total). Guess what! The gamble worked! The radio works fine
and the display is back. I did run into one problem. The instructions I
purchased did not match my radio exactly, so I e-mailed Mr. Harrison
directly. Not only was his response timely, but he supplied me with the
exact information I requested. I have only praise for Mr.. Harrison and his
web site, and would recommend it to anyone. Thanks again Duane, and feel
free to use this review to let people know about the great service you
provide.
Sincerely,
Ryan Johnson
- rjohnson2121@NOSPAMhouston.rr.com
Save My Sanity Praise...
I hope this comment gets posted. I am extremely grateful at the solution provided by Duane. I have owned my 2000 Ford Explorer for a couple of years now (I bought it used) and the only thing that really took away from it this entire time was the fact that the display never worked. Well, I did some searching on the web and I came across this website. I contacted a few people to check it out and I got raving responses so I decided to try it myself. At worst, I would have spent 84 bucks for a solution that didn't work. Well, it turns out to be the best 84 bucks that I've spent in a long time. Just as others told me, the entire repair took literally 23 minutes (I timed myself). I am thoroughly disappointed in Ford on this issue. I love my car but I would have been charged $450.00 by an independent contractor (Ford doesn't even fix this problem themselves anymore)to fix a problem that literally cost less than $100. I give you infinite thanks, Duane. You really have saved my sanity.
Ian
- NemoesseNOSPAM2000@yahoo.com
Austin TX

A Broken Nail, but a Satisfied Save My Sanity Customer...
Thank you soooooooooo much!!! I happened upon your website while searching for the fix to another problem on my '99 Ford Explorer. I showed my husband the information and "begged" him to let me try the radio fix. He said I could, so I immediately bought the new board, and rented the removal tools. I just received it today (I hate Post Office holidays!!) and couldn't wait until my husband came home from work with my truck. Right after supper, I started the procedure. In between helping our daughter with her homework and talking to my dad about his hunting trip, I was able to change out the board with little help from my husband. After all... it's my truck..=) We just plugged the stereo back in and..... IT WORKS!!!!!!! YEEEE HAAAA It's so nice to be able to have the read out again!!! And.. I only broke one finger nail... LOL
Thanks again!!!

Deanna Tompkins
Kasson, MN

A Save My Sanity Customer...
Duane,
I received the part yesterday and followed your very detailed instructions on how to replace it. Once I pulled the radio out, it took only about ten minutes to replace the part and install the radio back into the dash. Need less to say, my radio display is now working and I could not be more pleased! My swap part has been mailed to you as of this afternoon so you should hopefully receive it early next week.
You provide an excellent service for a pesky annoyance.
Thank you very much,
J.J. Means - meansjj@NOSPAMhotmail.com
Murphy, TX

Feedback from a Nissan Quest Radio Repair...
I received the board you sent last Friday. On Sunday I was able to remove the radio
from my 99 Nissan Quest with only a phillips screw driver. I followed your instructions and switched out the circuit board then reinstalled the radio and it works! I mailed the bad board back to you yesterday.
Thanks for posting this service on a website for all of us who were never notified by Nissan that this was such a common problem and that it was so easy to fix. I only wish I had found you sooner as I have been driving around with a blank display for the past 3 years!
Best regards,
Brian Paulson - marge76@NOSPAMcomcast.net

It's the feedback that keeps us smiling, knowing we are helping....
Hi Duane,
I just want to say how much I appreciate your help in repairing my problem. When I bought my 2000 Mercury Mountaineer about a year ago the radio - clock display worked erratically like so many others that I read about.

I found your web site several months ago but to be honest with you I was skeptical.
After getting annoyed enough at not knowing the station I was on or the CD track number I decided to give you a chance at helping me. That was the best decision that I ever made with my vehicle. The "Save My Sanity" program was a snap for me to do.

As a woman I was worried at first but your simple instructions were so easy to follow.
Personally I recommend buying the radio removal tool over the hand made one. The total time it took me from removing the radio to replacing the board to reinstalling the radio was less than a half an hour.

I was mostly impressed at how promptly you sent me the new board and refunding me my deposit. I "HIGHLY" recommend you to anyone with this problem. It is great seeing that display again. I wish you continued good luck and feel free to use my positive comments.

Thanks again.
Karen B. - sing1forme@NOSPAMmsn.com

Feedback from a Chrysler/Jeep radio repair...
Hi Duane,
Thank you for responding so quickly. No, I didn't scroll down far enough and YES, that is the radio that I have. Your instructions are PERFECT! Your pictures are PERFECT! I have the radio repaired and installed in less than 1 Hour. The same resister that you had problems with is the one that I had to re solder the outside leg on. I can not thank you enough for how you have helped me do this repair myself. I have your web site book marked and I will be sharing your site with my friends. Your price is more than fair and reasonable. I must say that I was a little skeptical at first, but after reviewing all of your testimonials and initial directions I decided to give it a try. BOY AM I GLAD I DID!!! Thank you again and again. You are doing a great job with your web site and I hope that you succeed greatly with it and life.

My Best Regards and many thanks again,
Michael Haas - michael.w.haas@NOSPAMjuno.com

From someone not afraid to take on the challenge...
Hi, I just wanted to thank you for your website. I just bought a used 98 Explorer and the display didn't work at all, but thanks to your site I was able to fix it on my own!

I think it's notable to mention that I am a 24 year old single mother of three children, and I had absolutely no trouble with your instructions, even though I have no prior soldering/electrical experience.

I really encourage everybody to give it a try, if I can do it I'm sure anybody can.
Amanda - aelpern@NOSPAMearthlink.net

We have made many friends in Canada; here's what one had to say...
Dear Mr. Harrison
I would like to thank you for the save my sanity program. I purchased the 99 Explorer with this problem but problem solved with the board swap and it's quite distracting driving, seeing the display for the first time. The how too's on your web site are very helpful. I recieved the board in six business days by snail mail and I live in Woodbridge, Ontario Canada. I encourage anyone how is having this problem to use this service especially the Canucks there are no gimmicks here just fixes.
THANKS AGAIN,
Ritch

We hear this all the time. Help your friends; spread the word...
The new power board worked perfectly. I only wish I would have checked the web BEFORE I spent $105 at the dealership for them to tell me that there was nothing obviously wrong and they would have to send it out for repairs. Thanks for the assistance with the instructions as well. I couldn't be happier with the results.
Ernie Smedlund - ernestsmedlund@NOSPAMcharter.net
Morgan Hill, California

I think I may have to pay for this kind of feedback...
My girlfriend has a 2000 Mercury Mountaineer with the same display problem as everyone else. It really annoyed her and the Ford dealer told her it would be $200 just to remove the radio, let alone fix it. I decided that I would fix it for her for a Christmas present. I went with Duane's "Save My Sanity" fix and I am so glad I did. With the removal tools that Duane lent me, the radio was removed from the vehicle in all of about 60 seconds (remember, the dealer wanted $200 just to remove the radio). The fix itself took me about 15 minutes and the only tools I needed was a small Phillips head and a small flat head screwdriver and a pair of needle nose pliers. That's it! I put the radio back in the truck and the display worked immediately and has worked ever since. I did this all while my girlfriend was sleeping on Christmas morning. She was so happy to have that display working...it made a great Christmas present.

If you have the same display problem, I strongly suggest you go with one of Duane's fixes. Forget about the Ford dealer, or anyone else. You can fix this yourself, no matter how much mechanical experience you have. Duane makes it so simple and after I have seen the results (display fixed, as promised) I would trust his work before I trust anyone else's. I have nothing but good things to say about my experience with Duane and his services. He is a straight shooter and I will definitely recommend him to anyone that has the same problem.

Thanks, Duane.

Dean - RokkinOut@NOSPAMaol.com
Massapequa Park, N.Y.

Save time; save your sanity...
Hi Duane -

I've been out of town & hadn't had a chance to drop you a note, but I wanted to say thanks for "Save My Sanity" board swap - that could not have been easier to do - took me & my dad maybe 15-20 minutes and I had a working display again! Glad I found your website!

Hal Manuel - hal@NOSPAMmanuel-family.com
Plano, TX

It's the little things (like a radio display), that can bring joy back to our lives...
Hello Duane,
We received the new Power Supply and IT WORKS!!! We can't thank you enough! It just amazes us how much we missed such a simple thing as the display on the car stereo! It's like having a new car again! It's nice to be able to look over and see what time it is again! What's sad is that this is the most exciting thing that has happened to us in a long time! We really need to get out more! I will send our bad board back to you tomorrow, hopefully! I'll make it a point to get to the Post Office.

Thank You Again!!
Have a Great Day!

Lori Graham - Lori_Graham@NOSPAMDell.com
Austin, TX

Brighter than Before...
Duane,

Hi, Thanks for such a quick and easy process. My radio works great now. I think its actually brighter than when I first bought my truck.

Thanks Again,
Ryan Fought - ryno32@NOSPAMbellsouth.net
Weston, FL

Feedback from a "Save My Sanity" participant...
Duane,

Wanted to thank you for your 'Save My Sanity' service. It took about twenty minutes to pull the radio out of my Explorer but this was the only problem. Your directions were quite easy to follow and I am happy to report that the operation was a success!

You are what the internet should be about - people with honest goods and services helping other people. I am glad that I found you out there.

Roland

PS.

The problem with extracting the radio was with the 'cheaper' coat hangers. When I finally found a thick hanger the radio popped right out (just like you said it would)!

Roland Murphy - roland.murphy@NOSPAMcomcast.net
Wareham, MA

A description like "WOW" sums up the experience...
WOW!!! I'm glad I was able to find your website and do business with you, Duane!! The new unit works great and your instructions were "on point" (once I finally got the radio removed).

I'll get my old board sent back to you ASAP.

Thanks again!!!

Marcus Weathersby - MDWEATHERSBY1@NOSPAMprodigy.net
Aurora, CO

We hear this a lot from those doing the "Save My Sanity" Swap Program...
Hi, I received the power supplyboard today. I installed it and my radio display works, should have done this months ago. I'll be returning the core power supplyboard tomorrow. Thanks a bunch.
Chi - Bonovx@NOSPAMaol.com
Saddle Brook, NJ

Several different ways to help...
Duane,

What can I say? You da man! After I got done screwing around and tried

your solution, the stereo is now fixed and working well. Display is just

fine now. I just noticed your other site,

www.fixyourford.com

. Man, wish I had known about it sometime

back. Here's why.

* The vehicle is hard to start. It will start if you push on the gas pedal, but then will

die immediately when you let off the gas (Idle Air Control). Basically, the
vehicle will not idle...a simple fix.

- Had this one. Spent a couple of hundred dollars for dealer to completely

clean out fuel injection system and throw in a new battery. Yeah, dumb ass

me.

* If your gas pedal is sticking just ever so slightly so that when you first start pushing the

accelerator, it's wanting to surge ahead...a simple fix.

- Got this one now. Will be dealing with it real soon.

* The rear wiper stops working

- This one is the real kicker. It happened to me. They replaced the wiper

motor. I got it back. Worked the first time I turned it on. Second try it

died again. Took it back. Dealer claimed some "gen module" was out. I

asked what this was. Reply was basically everything electrical flows

through this item. I said, Ok, if everything electrical flows through it

and it's bad, why is it that the only thing I have going wrong is the

windshield wiper stopped working. "Well, ya know, it's probably just one of

the circuits". Fine, sounds like bs, but I want it fixed. Couple hundred

later it's all working.

Then the other one I've got is the ABS light is on all the time. With a

little research, I've found that this is generally the sensor on the rear

axle. I'm going to replace that soon. Hopefully that will take care of it,

especially since it started engaging the abs on occasion (specifically the

first slow stop or two. Never does it on hard brake). At any rate, thanks again!

Regards,

David Iungerich
Nissan Quest owner on the "Save My Sanity" program...
Paramedics brought me back last week...I, with help from you, brought my radio back..stuck home for a bit now...bored...ordered it, got board in couple days...installed into radio last night..slide into car this afternoon...beautiful..sure was nice to see 12:00 on the panel...wish known about this couple years ago....took about half hour total...actually already had the cover panel removed from dash...was in middle of installing Satelite Radio Bracket last week..wanted to do that and fix radio at same time..Sat. radio a real pain to tune if display on Stereo not working....lol....Nissan radio easier to remove than the Ford models...no clips...just bolts and slide it out..Just sent you back my old board...Thank you, will tell other Nissan Quest owners if i can about this...
Keith Pennington
krpenn@NOSPAMnauticom.net
Pittsburgh, PA

Self-Proclaimed "World Class Skeptic" got it with the "Save My Sanity" program...
Duane,
You are to be commended and probably praised for your program. I am a world class skeptic, but after having driven, an otherwise perfect vehicle, with a blank radio display screen for over a year I was ready to try almost anything. Your knowledge base convinced me that you had identified the flaw in the radio...it works like a champ. I haven't been so excited about something this trivial in a long time. Your thoroughness, support, ease of doing business with, and follow up are unparalleled.
Thank you for a working radio display and for delivering what you promised.
Sincerely,
Ken Blackburn
- KCB2003@NOSPAMcomcast.net
Nashville
, TN

A wife takes on the "Save My Sanity" program...
Duane:
I was finally able to get around to fixing my radio just recently.
(Holidays prevented me from getting around to it before.) I was kind of
hoping that if I hinted enough to my son (age 21 who is quite mechanically
inclined --- he works on jet engines for the Air Force) while he was home
on
leave for Christmas that he might install the new board in my radio and get
it working for me. No such luck! So, I decided I would just do it myself.
I went out on a nice rainy Sunday morning to my car, took all my little
tools and your very detailed instructions, and went to work. My husband
would peek in the window at me every now and then and just shake his head
.
He was wondering how long it would be before I gave up and we just went and
had a new stereo installed. (He was positive that I would mess things up
so
badly that it would require a new radio. This from a man who is not
mechanically inclined and believes everything can be put back in working
condition with duct tape and rubber bands.) Even a neighbor stopped by to
shake his head at my efforts. A couple of hours (and more than a few
interruptions) later, IT WAS FIXED AND WORKING! Your instructions were
absolutely great. So very detailed with the pictures. I can't thank you
enough. My husband was in total awe that I had accomplished this without
his assistance. Taught him a lesson!!!
Thank you again for your wonderful assistance. It was well worth the money! I have recommended you to a number of people on a Ford web board who were having the same problems.

Thanks again!!!
Linda Heinrich
linda.heinrich@NOSPAMverizon.net

Tried other "free" fix on the internet then found his solution here...

Hi
Duane,
Thanks to you I now have a working display. I admittedly had tried fixing it myself using some "free" information on the internet but I had no luck. Figured I would pay and try your information (with the thought in the back of my mind that it is a money back guarantee) and was pleasantly surprised that you were able to point me right to the problem I was having with my display. Again, thank you, Thank You, THANK YOU!!!
Rob Burns - Cincinnati, OH

Expedition Radio repair feedback...
Duane,
Thank you! Thank you! Your instructions fixed my radio!
I
am so glad I went this route instead of sending it off. You saved me a lot of money and heartache!
Michelle Krintz
- mj.krintz@NOSPAMverizon.net

Sgt. Upton and Deputy Wiggins did a dual repair on their '98 and '00 Explorers using the Save My Sanity Swap Program...
Duane
Thanks for the new board. The two we got are now working great and we are in the process of returning the old boards to you. Your service is above board. You answered every question I asked very quickly and the got the boards to us as soon as we placed the order. I will be passing it on to everyone that asks me how I got my radio fixed. You provide such a great
service
.
Sgt.
Steve
Upton - uptonsteve@NOSPAMsbcglobal.net
(along with markwiggins01@NOSPAMaol.com)
West Columbia, TX

The feedback is greatly appreciated...
Duane,
Received your new power supply on Thursday, 1/6/05, and installed today,
1/10/05. Worked like a charm. Today I shipped you the old board.
Supposed to be 2 day delivery USPS 1st Class Certified Mail. Thanks a
bunch. You provide a great service.
Ron
- Ron.Payne@NOSPAMenergen.com
Birmingham, AL

Even the simple, straight forward feedback is appreciated...
Duane:
The new board works as promised. Thanks so much for all your help. I will recommend your services to all my friends and family.
Brian
- laurafudacz@NOSPAMmac.com
Schererville, IN
(p.s. My wife thanks you, too! She was the one without a radio for a week!)

While it took a while for this package to make it into Canada through the Christmas mail, this may become a new Hallmark made for TV Christmas Story...
Well it's Christmas eve and the postman didn't deliver it again this
morning. Then about 1 1/2 hours later he drove up and delivered what can
only be described as the xmas present I wanted most. It was with trepidation
that I placed the new power board in and turned the key. Absolutely fearful
that this whole process had been in vain. Well Duane (or should I say my
secret Santa ) the elation I felt was tremendous. I had read a few of your
customer comments over the last few aggravating months as I tried to fix my
radio, but seeing the 12:00 flash on was unbelievable. This was my first
attempt on the internet to purchase information or any product. With this
first experience such a success I may have to reconsider the internet as a
whole.
Thank-you again
Best of the season to you and your family
Warren Tucker
- wattontucker@NOSPAMdccnet.com

Tsawwassen
, British Columbia Canada
Reply back upon asking permission to use their feedback above:
Be my guest as of now I have nothing but good things to say about absolute technologies. I am keeping your card face up under our plastic desk protector in case there is something else you can help us with in the future.
regards
Warren Tucker

First Time Soldering Experience...Fixed Display
Hi Duane-

Just wanted to say thanks for the help. My radio display is working again after being out for 9 months. Your instructions were great - I have no previous experience with soldering and I was able to resolder the connections on the back of the board without removing the EMI tin.

Thanks!
Craig - craig.settle@NOSPAMcox.net

Expedition Radio Display fixed...
Duane:

Thanks a bunch for the information. It was well worth the $20, considering that most places that fix radios have a bench fee that exceeds this amount. I was on e-Bay looking for a replacement radio for my 99 Expedition, which has been driving me nuts trying to remember the order of my CDs and seek order for local radio stations.

So, I received the login information to the well-formatted and detailed website. I have some electronics experience - enough to properly operate a soldering iron anyway, and had the problem fixed in about 15 minutes - enough time to remove the radio while the iron heated up and to make "the fix." For the first time in about a year, I was able to
see the display for my morning commute.

I highly recommend supporting this site. Duane, it is nice to know that there are still some good people out there - even on e-Bay.

Cheers,

Stan Yarbrough
Chief Operations Officer
Insource Business Strategies
o +1.704.235.5640
stan.yarbrough@NOSPAMipayou.com
www.ipayou.com

Happy Holidays!...Radio Display Fixed
Happy Holidays!
I just want to thank you for posting your information about how to fix the display on ford stereos. I attempted to fix the problem without raising the resistors but that failed. I went back and raised the resistors like you suggest on your site and when I popped the radio back in, 12:00 showed up. It was a good feeling and it saved me the $425 the dealership wanted to replace the stereo.
Thank you for taking the time to put that site together. The images were really helpful as I know very little about inside electronics.
Thanks again,
Rich Booth - jbooth4@NOSPAMneo.rr.com

"Save My Sanity" Swap Customer feedback...
Duane,

I swapped my "blind" board with your replacement. I feel like I have a
new vehicle!

The instructions were accurate and simple. It took about thirty minutes
for me to finish the job. I made my own removal tools out of a clothes
hanger that was a little soft ;>)


Thank you so much,

Troy Gradel - tgradel@NOSPAMsbcglobal.net
Fort Worth, Texas

Customer feedback from Carolyn...who was a bit skeptical to begin with (referring to her comment on "losing it" when she had some trouble with her email address in PayPal) , but look at her now...
Hi Duane!

I got the board yesterday. It is in the radio, and major success, a display is showing time and station again. I even turned the RDS on. I will be sending the old board back first thing tomorrow.

You have made this whole thing as easy as possible. I again apologize for my 'losing it' in the beginning. Keep up the fine work. I will be sure to tell people about you and your company.

Sincerely,
Carolyn - mizriz@nospamtheriver.com
Her reply upon asking permission to use her email on the web site...
Hi Duane,

Sure, you can use my feedback on your website. In today's world, it is refreshing to be able to do business with someone who not only knows what he is doing, but actually cares that his customers are satisfied. Plus I appreciate the way you keep your customers in the loop. Good job.

Carolyn - mizriz@nospamtheriver.com

Oatmeal cookies will go a long ways...
Hi Duane,

The fix worked like a charm. I took the radio out and sent the circuit board to work with my husband. He had a couple of employees that just finished a soldering class, so they made a project out of it and did a fantastic job. All it cost me was a batch of oatmeal cookies.

Thanks for your wonderful instructions and for your website!!
Laurie - a59yankee@nospammsn.com

Hayes was wanting to get the radio fixed before going on a trip, used the "Save My Sanity" Swap Program (ordered Saturday, board shipped Monday, Radio working Wednesday)...
Duane,

The replacement board arrived today and I installed it in five minutes flat.
Works perfect. Thanks so much. My trade in board will be in the mail
tomorrow.

Thank again for the great service

Hayes - rbrckn@nospamhotmail.com

Feedback from the No Soldering Required "Save My Sanity" Swap Program...
All is VERY GOOD!! Thanks for your services and timeliness!! Everything was wonderful once I knew I did not have to solder the components myself.... The radio is working perfectly and it is very nice to see the display again!!

Thanks again,

Len Shepkosky - len.shepkosky@nospamtrusjoist.com
Bellmawr, NJ

I couldn't pay for better feedback than this (I enjoy hearing it)...
Duane,
I did receive the power suppy. It is installed and working great. I would like to thank you for not only for the power supply but for your honesty and integrity. I have been burned with other internet dealings. Consequently, I was sceptical of an offer that seemed too good to be true. This transaction has renewed my trust.

I dropped my old power supply in the mail just yesterday. You should have it by the end of the week.

GREGJWAGNER@NOSPAMcs.com
Potomac, MD

"Singing Your Praises"...
Duane,

That did the trick and it only took me 15 to 20 minutes. Fantastic! I've put the swap board in the mail today so you should have it in two to three days. Let me know if not.

Wish I'd found your site 2 years ago!

Take care.

Adam Swartz
Nashville, TN

The Customers Tell the Story I Love to Hear...
Duane

WOW!!!!
The best product I have ever purchased on the internet. After one year without a radio display, and a local ford dealer estimating $1000 to replace the radio/cd/cassette unit. You now have a very satisfied customer. Great detailed step by step instructions to complete a start to finish repair in twenty minutes, which included building the radio removal tools.
Thanks

R Daniel - DAK1955@NOSPAMaol.com
Lake Forest, IL

Feedback on the "Save My Sanity" Swap Experience...
duane,

it was a pleasure doing business with you. i can't describe how beautiful my dash looks with a working radio display again. the board you sent me has worked perfectly since the install. also thanks for the very prompt email replies, parts shipping, and refund.

regards,

Wes Davis - gatoraud2002@NOSPAMyahoo.com
Anderson, SC

"Dude, it works." a Fix Experience...
This was the best $20 bucks spent. Fixed it in less than 45 minutes including taking out the radio. The hardest part was getting the radio out and if I would have read your directions completely, it would have been sooner.
Thanks.

Rob
Robert Bagley - rbagley@NOSPAMec.rr.com
Wilmington, NC

Feedback from the Ideal Experience...
Mr. D,

I'm writing to thank you for the fix to my 'no-display' problem.
I have a 98 Ford Explorer and haven't had a radio display in two years. I've pulled the radio out a number of times to reset wires and tinker, with no success. So I've just lived with it. However, today I thought "Enough already!" I went on the internet, searching for help, and found your site offering a reasonable solution.

Initially, I was skeptical. First I've never done any soldering on a circuit board before, which concerned me. Second, I got estimates of close to $300.00 to fix what you were offering to fix for $19.99. Well, that seemed like one of those 'To good to be true' offers. But after reading the feedback and considering the costly alternatives I thought, it couldn't hurt.

I ordered your document and within minutes I had it downloaded. I started reading and couldn't believe how simple you made it for the 'lay' person. The detailed step-by-step process is clear, straight forward and has reference pictures throughout to guide through the process. After reading the document, my response was "This is a great document" followed by "I can do this".

In two hour (keeping in mind this is all new to me) I had the radio back in the car and the display came right up... first time in two years! Duane, you can't imagine how thrilled I was to see that display. Thank you . thank you. THANK YOU !!

Dave - justunme@NOSPAMcharter.net
Reno, Nevada

Feedback from the "Save My Sanity" program...
Duane,
Received the swap board today. Followed the directions on the site and had the radio out, swapped the board and put the radio back in in 15 minutes. The green numbers lit up for the first time in 18 months. This is the second time my display went out. The first time was after 6 months of buying my 1999 Explorer. The dealer repaired that one under warranty, but I went without a radio for 2 weeks.

Thanks for a great service.

Ron Frederick - rfrederick2@NOSPAMwoh.rr.com
Springboro, OH

Feedback from Canada...a DIY (Do It Yourself) experience...
As they say in the gangster movies, "the fix is in". I purchased a new fine round tip soldering iron to replace the chisel tip one I had. This is absolutely essential, but not having soldered surface mount components before, I didn't realize how important it was.

The display came on as bright as ever on the first try. When you have a gradual deterioration, you forget just how bright the normal operation is.


Ray Carnovale - ray.carnovale@NOSPAMsympatico.ca
Toronto, ONT, Canada

Feedback after a thorough test...
Duane,

Just a quick update. The radio display is still rockin' after putting over
1500 miles on the Explorer!!

Thanks for your great repair/upgrade.

Paul - preiter20@NOSPAMcomcast.net
Gurnee, IL

A nice short note from a happy customer...
Duane -
You offer a great service. Too bad Ford would not do this. Thanks for the quick response. All is well with my radio.
Adam Myers - ebaysales@nospammyersco.com

Personal Note from Dr. Schadow...
Looking for some acupuncture or massage therapy near Coon Rapids, MN to help relieve stress from your malfunctioning radio?...Then try Schadow Chiropractic and you can discuss with the doctor the ease of fixing your radio...just like Dr. Schadow did himself!" See Dr. Schadow's personal note below in which he used the "Save my Sanity" swap with the tools included option...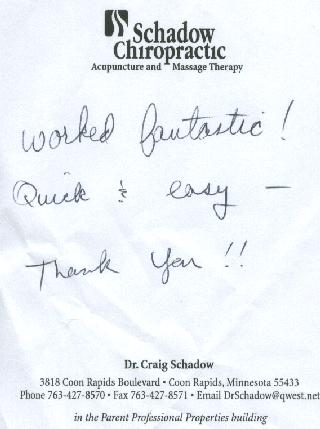 Feedback from the Swap Program...
Duane,

I ordered swap out board on 7/27/04. Came home from work on 7/29/04 to find board had arrived in the mail. Five minutes later, board was in radio, which was in vehicle, which was working like new.

Thanks,

Bo. Sobkiw - sobkiw@NOSPAMspawar.navy.mil


Feedback from a Ford Radio Fix...
Duane,
I followed the directions for the radio fix, and was able to perform the fix in less time than it took me to open the radio up. The display works beautifully! Thanks for saving me from having to buy another radio.
Thanks,
Marty Teramani - jmt1991ya@NOSPAMyahoo.com

Feedback from a Volume Control repair...
Installed the volume control I ordered from you in less than 15 minutes. About 10 of that was getting the coat hanger in the right place for the retaining clip. Volume is back to normal. Worth every penny.
Mitch Hannah - Waynesville, NC
mitchlhannah@NOSPAMcharter.net
Upon asking for permission to use his feedback, Mitch added, "I was amazed at how easy it was."

This Gentleman had several problems with his radio, including the blank display. He sent it in for repairs...
Hi Duane,
I just wanted to let you know that after several days of tuning my radio and being able to see what time it is, I couldn't be happier. You just can't appreciate something so much until you do without.
Thanks again for all your help in getting my radio back up and working like it should. Ford should come forward and acknowledge the problem. But in their absence, it is good to have a qualified individual that can pick up the slack. Good job.

Sincerely,
Dean Houlette - West Linn, OR
dhoulette@NOSPAMaccess4less.net

Swap Program participate...
Recieved the swap board today (looks like new), exactly when you said i
would (great delivery) Fitted the board to my radio and plugged in to the car and "PRESTO" What an absolute joy it was to see the display again.

Duane, thanks for all your emails and advice, I have and will continue to
recommend you to everyone i know with the same problem.

The old board will be in the mail and with you asap...

many thanks
Darren - Spring Lake, MI
darrensmith02@NOSPAMmsn.com


A Grandmother used the instructions to fix her Chrysler / Jeep radio...
Hi,
I just wanted to let you know that the program worked beautiful. I am a 67 year great grandmother and I had no problem with the instructions. They were very easy to understand. My husband took the radio out of the car and I did the PC board as I used to work on PC boards a long time ago. Between taking the radio out and doing the PC board and reinstalling the radio, it took us 1 hour and 55 minutes. Pretty good for a couple of seniors. If I ever here of anyone with the same problem I will gladly give them your address. It has been a couple of weeks now and it works great. Thanks again.

Mary Jo Kostyal - Lake Placid, FL
heygirl719@NOSPAMearthlink.net

A Repeat Swap Program Customer!
Duane,

Thanks once again Duane! The second swap out worked as good as the first!
Mike Deal - Altamonte Springs, FL
Deal@NOSPAMaspd.org

A 1999 Expedition Radio...Fixed!
Duane,

Your 'Fix It" worked for my 1999 Expedition radio/tape/cd unit. This whole process took about 30 minutes and saved lots of dollars. I spent about $3.50 on the hooks to dismount the unit and I already had access to a soldering tool. Thanks for sharing your wealth of info on your web-site.

Thanks again,

Margery Benton
MBENTON@NOSPAMentergy.com
Follow up email after asking permission to use email...
Duane,
I kinda' just stumbled up on your web-site when I was doing a search for Ford radio repair. I was very frustrated with the fact when I called the Ford dealership - they would have to ship it off to Carrollton, TX for possible repair and will charge you around $200.00. My next step was - I called several of the local audio vendors and they will not do any type of repairs - just new installs. To replace this unit they told me it would any where from $400 - $600 which I thought was foolish to spend since everything worked fine except the LCD panel. So when I found your web-site I was very much encouraged by the success stories I read and thought it was definitely worth the risk & the expense of your instructions. I was elated when all it cost for me to repair my radio was $24.00! I just really appreciate someone like you for sharing your knowledge -- it for sure made this situation a lot less complicated.

I have no problem with you posting my story on your web-site - I am glad to be one of the numbers.

Thanks again,

Margery Benton -
MBENTON@NOSPAMentergy.com

A display is a beautiful thing!...
Duane,

A little solder is a wonderful thing, I took the power supply out this morning and hit every solder point you said to, raising the capacitors of course, put it back together and I am seeing the light!

This is really cool because I live in Denver where "Downtown radio" charges $295. flat rate for any repair, no matter what is wrong with it.

I found another guy here who would exchange it for $195.00, but I didn't want someone elses junk.

Great instructions, I was skepical to do this but figured with your exchange / money back guarantee I had nothing to lose but a little time.

Happy in Denver!

Jared
jaredpach@NOSPAMyahoo.com

More feedback...I enjoy it all...
Thanks!!! It fixed my display problem. I was so impressed that I went ahead and ordered the CD Eject solution as we continue to have problems with the CD no accepting CDs. I have not had a chance to implement that as it was too late and too dark the night I installed the Swap board.

Thanks again and I'll send my old board by the end of the week.
Regards,

Bill Coplin - St. Louis, MO
bill@NOSPAMnettechinc.com

A couple emails from a satisfied customer...
Hi,
Thanks. I've been meaning to email you back but have been having some virusissues. Anyway, my display has been working for a couple of weeks now. I spent $15.80 at Radio Shack for the soldering iron and material but had a $10 off coupon for everything so the toal cost of the repair was $5.80 plus 20 bucks to your website. A lot cheaper than a new stereo. It was really frustrating not having a working display and I am glad to have it fixed.
Thanks again,
Andy Drook - adrook@NOSPAMearthlink.net
Follow up message from my request to use Andy's email above...
Hi Duane,
Sorry for the slow response, I changed internet providers and now have a new email address. To answer your questions:
1. You are certainly welcome to use my email as a testimonial, I was very pleased with my outcome.
2. I found your site by doing a Google search in the newsgroups for "Ford Explorer Display" or something to that effect. There were quite a few postings related to your site from people who had had success with your fix.
3. I wasn't skeptical of your site initially because I only saw positives in the news group postings. I was somewhat skeptical of my ability to do the repair as I don't have any experience with electronics but I figured that the worst that could happen would be that I would screw up the board and sent it to you and have you fix it. That would still have been much cheaper than the $600+ that the Ford dealer wanted for a new unit. However, the site was so thorough in walking me through the repairs step by step that even I was able to do it in a very short amount of time and it has been working ever since.
By the way, the Ford dealer said that this a common problem that could not be fixed the only option being a new radio so I was certainly glad to find your site.
Hope this helps.
Thanks again,
Andy
adrook@NOSPAMearthlink.net

I value and appreciate the feedback...
Received the product yesterday and it works. I cannot believe that I went five months without a clock or able to tell what station I was on. Thank you and I am sending my old board back to you today.

Thank you!

Mike
Mckenna82@aol.com


This is what I like to hear and what I like doing...helping fix radios, saving marriages, and creating bonds between fathers and their sons.
Duane,
Just wanted you to know you've restored harmony in my marriage. We have a '99 Explorer Limited and the radio display had gone out; my wife & teenage son, who spend most of the time in the vehicle, were very exasperated, to say the least. Dealership said they would only replace, not repair. I decided I would at least make an effort to try a repair.

Ran across your website, decided to risk the $20. You need to know that, while I consider myself reasonably handy, I didn't even own a soldering iron but after a quick trip to Radio Shack, I had the parts.

Got my son to help me extract the radio ("cool, Dad!") and followed your instructions to the letter. Didn't reflow the solder on all the critical points but hit most of them. Plugged the unit back in and, as you said, what a feeling to see the '12:00' pop up! I was an instant hero!
Thanks for your site...it was the best $20 and hour's worth of work I've spent in a long time.

Now, if you can just tell me how to get to the broken antenna motor without having to take the fender off...

Chuck Chester - Flower Mound, TX

A Lesson Learned...This highlights what can go wrong going to "big" electronics shop (and I comment on how my services benefit you in the bold print below)...Actually, David considered using my services, but thought that the swap price was too high. Here's his original email:
Duane,
I would love to support your efforts - your web page is great for the folks out there seeking knowledge and help.
I had the problem in my 2000 Explorer Eddie Bauer also about 2 years ago. I am an EE (Electrical Engineer) also, and, I was also laid off for the past 2 years!!! (loved every minute of it with my two cute girls though a real blessing, but not when the bills stacked up!)

I am back to work now but doing a job I hate in sales of high-tech gear. I am too busy to really do much EE 'ng any more! I soldered the joints on the board and got mine to work for about 10 months but then it finally gave in. I don't own an Oscope any longer, so really can't fool with this stuff.

The point I would do your board swap, but at the $84.99 you show, I could order ALL sub boards brand new from the usual repair shops!!!!
David.

First off, David did not have access to the instructions I have put together...he did soldering based on information he had gotten somewhere on the internet...thought it was going to save him money. If David would have started with the instructions I have put together for $19.99, he may have avoided having to go for a new set of boards. Also, I don't have an Oscope, either, and it's not needed to do the repair...that's what's so great about the instructions I have. It only requires the parts I list on the front page (all gotten from Wal-Mart and Radio Shack)
Here is the next letter I got from him after I had explained my services and the $84.99 swap board program.
Hello,
Would you be interested in the full set of repair boards for this Ford Radio problem for your inventory?

I did purchase the boards brand new from ##### (name blackedout) service in GA last Wednesday - two boards are still in the wrapping and the third board normally associated with this problem I did try briefly in my radio. It did not solve the problem but is brand new and operational, guaranteed. I also have the full paperwork from ##### service for the board set showing the $82.00 plus shipping that I paid.

I discovered that my radio had a display driver IC problem on the front face board. As a result, I simply participated in a full radio swap at $199 here in Milwaukee, WI, as being more cost effective overall. So, I have a brand new radio that is fully warranted against this problem and I do not need the repair boards (the 3 board set).

I would be willing to pay shipping to you and to provide you these as new boards for $60.00, which is a great deal for brand new parts. You could then use them in your inventory as needed.

Let me know if that is of interest to you.

David

Well, what ends up being more "cost effective" for David was being out over $281= $199 + $82 plus shipping. If he would have gone with the $19.99 instructions, he could have tried fixing his board...if that didn't work, then he would have seen some of the other issues with these radios and he would have realized that there is another sometimes common problem on these displays (this would be the "display driver chip" that his electronic's shop fixed...it's not really a display driver chip, but I have it explained in my instructions). His radio could have been fixed from the information provided by the $19.99 contribution. However, if he wasn't able to fix it himself, I had offered to do it for $99.99. Also, if he would have gone with the "Save My Sanity" swap program, and if the boards didn't work, he could have returned them for a full refund (instead of being stuck trying to sell his new ones for a loss)...I also warranty the swap boards for a year...so it's no different that having a new set, except cheaper.
So, instead of trying to pay for the services that I offer that takes the risk out of fixing your radio, what David could have done for $19.99, ended up costing him over $281 ("cost effective" by his definition). The worst case scenario in my program, he could have sent the radio to me and at a cost of $99.99 plus shipping, I would have fixed it for him. Sometimes you just can't tell an Engineer what to do.
So, in conclusion, the benefit of what my services offer, if you are looking at doing it yourself, you will see all documented fixes and issues on the radio display problem. If you can't fix it yourself, I offer to let you go with the swap program...it's a money back guarantee. And finally, I'll offer to fix it for you. If you are not in the 98% of the people who have been able to fix it with my services (with either the Do It Yourself instructions, the non-soldering "Save My Sanity" Swap program, or just the swap program), I'll take a look at it, if I can fix it, it'll be just $99.99 plus shipping.

Feedback from the first repair of a 95 Jeep Grande Cherokee Infinity Gold radio...
I would highly recommend Mr.Harrison's work. He repaired and returned my infinity gold radio from my 95 jeep Grande Cherokee in very timely fashion and I am very pleased. thank you again Duane
Roy Moore - Volant, PA
a.bobich@NOSPAMatt.worldnet.net

How One Wife Took the Bull by the Horns and Did the Repair Herself Using the "Save My Sanity Swap Program"...
Hi Duane,
I received the power supply board today, installed it, and everything is working fine. Thank you for your prompt attention and great service!
When my husband first saw the instructions he was definitely skeptical that we would be able to make the repairs ourselves. In fact, I waited several days for him to take the radio out and he never did. I decided to surprise him by doing it myself. Taking the radio out was a snap. It was so easy that I rushed to Radio Shack to purchase the tools needed to do the job. I did this before pulling the circuit board out so I had no idea how tiny the solder points were. That is the point where I became intimidated. I knew then
that I was over my head. That is how you came to get the board!

Feel free to use my email address on your website. It is evident from your website that you have put quite a bit of work into it and I appreciate that you offer this service to others.

Sincerely,
Kellie Rhodes - Goodview, VA
krhds@NOSPAMaccess-4-free.com

How I hope it Works For Everyone...
Duane,
I just bought a used '98 Explorer in near perfect condition from a Honda dealer. The only problem, of course, was the radio display. The Honda dealer took the car to Ford for repair. Ford wouldn't touch it. Honda offered to put in a new radio, but would have kept the car for a few more days which I didn't have. I found your site and was quite skeptical at first. I figured I was most likley sending my $19.99 into cyber-space never to be seen again. Well, $19.99 was not a lot to risk so I figured why not? Within moments of completing the Paypal transaction, I had access to the fix. At 9:30 pm, I set up my work space in front of the computer and followed your easy step by step instructions. My wife who was going to use the car in the morning was quite certain that she'd be driving without a radio. Well, by 10:30pm the radio was back in the car and PRESTO...12:00 was displayed! What amazed me most was that your photos were extremely clear and looked exactly like what was inside the radio. The step by step instructions were right on the money. I've never used a professional service manual that was this clear and easy to follow. $19.99 was a real bargain. Thanks for the help!
S Marton
smarton@NOSPAMfrontiernet.net

Here's some questions answered by a Swap Program participant - Tony Avera. His responses are in bold italics in the message below (in which I was responding to his email on his happiness in having his display back). I think this may answer a lot of questions some of you may have about this program and fix...
Hi Tony,
I never get tired of hearing the excitement of people bringing their dead display back to life. Glad it all worked out.
Feel free to spread the word. It's almost like an experiment for me to approach strangers with an Explorer and ask them if their radio works. It's entertaining to see the expression on their face as they try to figure out how I knew. I'd say about 70% of the time their radio is not working.

You can rest assured that I will gladly point anyone I learn of with this problem to your web site. This is one of the few things in life that end up being just what it was supposed to be.

Were you somewhat skeptical going into this? I'm trying to figure out ways to reach more people with this problem. I hate to think of the people going to Ford (Nissan) for these repairs, or throwing their radios out because of this problem.

Actually, Yes I was. I really wondered if it was for real and that I was
very likely about to send roughly 110.00 to a scam artist. ( 19.99 to
learn of the "fix", 69.99 for the swap board and 20.00 deposit ) . Being
that this did not turn out to be the case was a most wonderful surprise.
That the fix actually worked beyond my hopes was even better. Considering the cost of a new radio, your fee is VERY cheap.

I'm curious, how did you find my web site?

I did a search for FORD RADIO DISPLAY INOP or BAD or NOT WORKING or
BLANK. It popped up a few sites that had such a question asked and while
a number pointed to radio repair shops that wanted you to send in the
radio so they could "fix" it onsite for roughly 125.00 PLUS shipping. I
also found a page where someone else had found your site and used the
repair. they were kind enough to include the link. as for the first hit
on the radio shop, I didn't care too much for that idea as I figured on
the turn around time to be at least 30 days. This is also assuming they
actually returned the over priced radio to begin with and not simply
sell it on EBAY. If you think about it, that would be a profitable scam.
They fix it for next to nothing and sell the whole radio for 150.00
Plus. They can always claim they never got it to start with. Even if
they are a honest outfit, the total costs of the repair plus shipping
can easily be over 175.00. This is FAR more costly than the repair you
offer and you give them a choice of fixing it themselves or for the more
butter fingered ( like myself ) you offer to swap the board for a TESTED
and already repaired board. Along with DETAILED instructions on just how
to do the fix, you can't go wrong with your repair when compared to the
radio shops. I think you'll find that as more people find your site,
they will opt for your solution over sending off their radio.

Also, would you mind if I used your email in my success stories section of the web site? You got the experience that I hope others get out of the web site.

Not at all, in fact, feel free to use anything in my response here if
you wish. I really would like to see you able to make something of this
as well as help people save money and / or their radio.
Again, thanks for your contribution to the web site. Keep in touch with any future radio adventures...hopefully they are all behind you now.

Your more than welcome, THANK YOU for taking the time to research and fix not only your own radio but having to foresight to see that you can help others save money fixing theirs as well.

R.A. ( Tony ) Avera - Fairhope, AL
cptdragn@NOSPAMbellsouth.net

From Alaska..
Duane,
I'm glad to see that someone has smarts to out fox out wit those over zealous electronics radio repair houses. IT WAS WORTH EVERY cent......It cost me more than that for a tank of gas!!!!!! Keep up the GREAT WORK. I will point all my guests to your website.

Thanks a MILLION
Bill - queenbee@NOSPAMgci.net
ANCHORAGE, Alaska

A USAF MSgt. Tells the Experience He Had...
Duane Harrison's process for the repair of the common "no display or volume problem" for the Mach radio/cd players that are in the majority of the Ford Explorers and Merc. Mountineer, is better then I ever imagined. His instructions were complete and I personally swapped out the power supply, including removal and reinstallaion of the radio unit, in less then 40 minutes. He is to be commended for this valuable, quality and inexpensive service. I encourage anyone, having "no display" issues like Duane describes on his web site, to contact him for the same quick service.

Sincerely,
Gary Bollingmo - garyboll@NOSPAMnstar.net
USAF MSgt. Retired
Oklahoma City, OK

New Board Purchaser Feedback...
I received the new power supply in 2 days. I shipped the old one to you. I am completely satisfied. I removed the radio and installed the new power supply in less than a half hour. I have been driving the car for a week and the radio light is working fine. I took the car to Las Vegas (12Hr. Trip) and the radio light worked excellent. Thanks again,
Tom Sloper - tsloper@NOSPAMcox-internet.com
Hailey, ID

More Kisses...
IT WORKED!!!!!!!!!!!!!!!!!!!!
my wife said she would kiss you if she could..
lets see if it holds...
i let each joint flow a little as you said and i added silver solder...
seems fine though
ahhh...
when i saw the 12:00
it made me feel great!
im no stranger to computer component level repairs....
but when its something i have never seen before it makes me worry at times...
anyway im off to go back out any play with it..
-patrick
Fort Pierce, FL
foneguy@NOSPAMbellsouth.net

Colorful Feedback from a Do-It-Yourselfer...
Hi Duane,

You were right (details of his fixed edited out)...I plugged the board back in the radio and voila - it worked from the start. It's been about a week now and it still works.

In the excitement, I thought about a new version of the MasterCard commercial. It would go like this:

Advice: $20
Parts: $5
Labor: 2 days
Having the display work on the car radio... priceless!
(For everything else there's MasterCard.)

:-))

Anyway, thanks a bunch. I'm a bit of a perfectionist and having a blank display on a four year old car radio was driving me up the wall. Thanks to you, driving my car is a pleasure again.

Enjoy your holidays and good luck in your endeavors!

-Peter
Silver Spring, MD
pmatas@NOSPAMrocketmail.com

Feedback from a Swap participant...
Duane,

I got the board on Friday. Today, Saturday, I removed the radio and replaced the board. Total time was about one hour. Piece o' cake. The display is working again. Thanks so much for your help, especially since we had email problems.

If you ever need a reference, let me know. It's great to deal with people like you who are honest and forthright.

Mason - Glen Allen, VA
childma@NOSPAMfhsc.com

"The fix worked"...
Hello Duane,

Your fixed worked great. Thank you for efforts on the web site. Not only did I find a cheap repair for my radio, I got the satisfaction of fixing it myself. Your instructions are clear and easy to follow. I especially liked the notes/hints at the end of your instructions. They helped me to get the fix to work. That did the trick.

Thanks again and Happy Holidays to you and yours,
Chuck - chuck.faye@NOSPAMcharter.net

A Post It from a Swap Program Participant...
December 12, 2003
This was returned with the returned swap board...I enjoy the feedback ~D. Harrison.

From Timothy Secrist - Troutville, BA
nsccon@NOSPAMaol.com

"The Fix" Feedback...
Dear Duane,
I just wanted to say thanks for the information you provided on fixing my blank display. My display has been out for 5 months and I wasn't going to pay hundreds of dollars to get it fixed through the dealer. I actually let my father do the soldering because he works on CB's and does a lot of it. Just wanted to say thanks and I hope I don't have the problem again.

Thanks!
Joe Tarlini - Warminster, PA
jbat316@NOSPAMmsn.com


"Save My Sanity" Feedback...
Duane,

WOW! That was terrific. Took me less than an hour and the display is back. Well worth the price. Thanks man! My power supply is on its way back to you.

John Sims - Boulder, CO

BTW, I tried to buy the tool at a local Checker but they were out and I was too lazy to do it myself. So I stopped by the local Ford Dealer and one of their techs lent me his tool. It had special indents on the end to catch the latch. I was able to pull it out on the first try - piece of cake.

Feedback from a "Save My Sanity" Participant...
Duane,
I mailed you my defective circuit board yesterday. You should get it Friday or Saturday. The replacement works great!!!! Thanks for being such a service to people. Your price was more than worth it. Next time (which I hope doesn't happen) I'll try the soldering fix.
Ron - Carmel, IN
r.b.britton@NOSPAMatt.net

Feedback from a "Fix" Participant. Originally Mike was going to go with the "Save My Sanity Swap" program, then he tried "the Fix" while awaiting the swap board and he got his own fixed! (he returned the swap board for a refund)...
Duane,
Saw the credit for the power supply show up today. Thanks for all the help. What a great service! You really can't imagine how happy I have been with you and your site. Just wanted to say thank you one more time. Display still going strong!!!

Regards,

Mike Gregory - Newark, DE
mgregory1@NOSPAMcomcast.net

Feedback from a Do It Yourself "Fix" Participant...
Duane,
Actually I was hoping to fix it without having to pay for the fix....I got pretty good at pulling the radio out and think I had it down to about one minute in the end! It was certainly worth 20 bucks to me and thanks again.
Sincerely,
Steve Jones - Searcy, AR
sgjones@NOSPAMipa.net

Feedback on the CD Eject Error Fix...
Hello, sorry late getting back to you. I performed eject error repair this morning. Worked to perfection!. It took me about 15 minutes total from radio in vehicle to radio in vehicle. (I'm a mechanic) and may be a little quicker than average. No more eject error, In dash CD player now works.
Thanks
Mike Wilson - Mansfield, OH
wilsonsrvrepair@NOSPAMearthlink.net

Feedback on Results of the Fix...
Thanks for having this site available. I performed the fix yesterday, and the display is now on. It sure was nice to see it light up. Your instructions were great, easy to read and understand. Thanks again.

Steven McGinnis - Charleston, SC
mcginnis75@NOSPAMhotmail.com

A Swap Program Participant's Feedback...
Hello Duane,
I received the power supply Saturday and installed it Sunday night. The display came up for the first time in like 2-3 years! After the Ford garage quoted me $300-$400 for a fix, I just lived with the blank display waiting for an alternative.
Thanks again.

Bruce Bartels - Lincoln, NE
bruce_bartels@NOSPAMhotmail.com

A CD Eject Error Repair and a display repair...a two repair customer "CD EJECT ERROR"...
Duane:

Just finished the job... worked like a champ! Took about 10 minutes [for the CD Eject Repair]. My stereo is now 100% operational.

Thanks much!

JB - Tualatin, OR
biermann@NOSPAMaaahawk.com

A Successful Do-It-Yourself Repairer...
Recieved the "FIX" last night and decided to try it today. Took about 2 hours as I have never soldered before. Followed your directions and it works like new!!

Thank You,
Steve Johnson
steven.b.johnson@NOSPAMworldnet.att.net

A Comments from a Successful Swap...
Got my new power supply and within 10 minutes of opening the box I had my radio back in my car with all the lights working. Thank you so much. I have shipping the old power supply back so you should have it soon.

I really am glad I ran across your site. If not I could easily see myself spending a thousand dollars or more for a new radio and 6 cd changer. I feel much better having the original sound system in the car for the day I try to resell my car.
Scott Metcalf - Pasadena, CA
scott.metcalf@NOSPAMoracle.com

A Successful Do-It-Yourself Repairer...
Duane:
Thanks for the help, it proved everything you stated.
Radio display is working great now , with the help of an experienced tech.

Thanks for a great service,

Mike Johns - Midvale, UT
cougman@NOSPAMutahmicro.net

Another Successful Do-It-Yourself Repairer - "two months and still going"...
Duane,

at first I was skeptical that a fix could be done with so little effort or money. I paid the $20 for the fix thinking that it was a long shot to get my radio display to ever work again. I got a friend who knows how to solder to follow your instructions to the letter. First time no success which made me begin to wonder if I'd ever see those green LED's again. On the second try, that beautiful 12:00 began to flash and it was a great feeling! I've waited to see if the fix would last a while and it's now going on 2 months with no problems. I just want to thank you along with everyone else whose used your site to get help. You're supplying a great service to all Ford radio owners who really need it :-) Any idea on the average fix long-term reliability?
Anyway, personally, I think you should charge more. I feel I got off way too
easy :-)

Thanks again!
Mark
Copyright © 2003 Mark D Vasquez

A Successful Swap Program participant - "thanks"...
Duane,
You rule! Got the board, swapped it with the defective board, and bingo! We have display! I was so happy I cranked Bob Seager's "Night Moves" for the whole neighborhood. Anyway, I'm sending you my defective board UPS. You should get it next week. Thanks for your help.

-Dennis
dennis.matt@NOSPAMverizon.net

Another successful repair - "thanks"...
"Fixed as a dog...!"; (That's what they used to say at a garage
I worked at as a teenager.) ...Thanks for putting together and maintaining your fix site. I would never have had the confidence to attempt this if not for the clear, step-by-step instructions. I probably would have removed half the dashboard before I figured out how to take out the radio. I also would not have thought to re-solder connections that looked fine but that's what it took to fix it.

Scott - scoutts@NOSPAMll.mit.edu

A short and simple email from Joel - "thanks"...
Excellent radio fix instructions, successful and appreciated !
Joel Martino - Palm Beach, Florida
kaya5@NOSPAMmindspring.com

Email from John - a "Save My Sanity" Swap Program participant...
Hi Duane!
I received the board and have already installed it using your directions. It took me about 30 minutes total time. Everything works fine. I GOTTA DISPLAY NOW!

I found the DIN tool much easier to use than the coat hanger because the indents on the ends of the tool make a very positive catch on the retainers. Once they locked in, it was relatively simple to pull the radio using the cassette opening. Without the DIN tool I could not get both clamps to retract at the same time - even when the radio was out of the dash and I was playing around with it.

Thanks again,
John - Sanford, FL
jstehman@NOSPAMcfl.rr.com


Email from Nick who did the Swap Program...
Duane:
The circuit board came this afternoon as hoped by me. Since I had the radio already apart, it only took half the time. Everything fitted like a glove and I was ready for the big test in less than 15 minutes. I got the "12:00" sign and felt like a little kid at Christmas time. Everything working great so far. Thanks for saving me a ton of money and restoring my sanity. I'll mail out my board monday morning as promised. I'll be sure to advertise for you. Thanks again.
Sincerely,
Nick Pirillo - Lakeland, FL
nickpirillo@NOSPAMearthlink.net

Email..."It Worked!!!
Hi Duane,

I just wanted to let you know that your fix worked. I was a little skeptical at first, since I had some experience technicians at my work look at the board and they didn't really see anything wrong with the soldering. But I did everything you said, re-soldering those five areas, then touched up the others you specified and also raised those 5 resistors. Then to my amazement, it worked. Thanks for posting the info and the $20 was well worth it. Maybe others will follow in your foot steps with some of these fixes that can be accomplished by the everyday person without spending a kings ransom at the dealer.

Thanks,

Louie Grasso - LGrasso@NOSPAMdrc.com
Senior Systems Analyst
Dynamics Research Corporation
Wilmington, MA

Email from a "Fix" Participant...
Duane,
Thanks for the information. I repaired my radio last night. It works great. Terrific instructions! I am a former technician (~10 years ago). I found your information to be better illustrated than most commercial technical manuals.

Take care,

Dan Eggleston - Charlottesville, VA
fred_mango@NOSPAMyahoo.com


Email from a Swap Program Participant...
I received the new board today and it is installed. I want you to know that it has been 4 months since I have had a CLOCK in my eddie baurer Explorer. NOW I HAVE ONE!!!!!! Thank you so much Mr. Harrison.
Byron Melton - Somerset, KY
19537522@NOSPAMmsn.com

Email "Thanks"
Duane,

I had a Ford radio with the display that faded out problem. I was sceptical, but bought your notes on fixing it. That was about the best $20 that I have ever spent! Since I have some soldering experience, the hardest part was getting the unit out of the dash. I had to use an old, very thick, coat hanger to do the job. I don't think that I could have done it with the more flimsy, new coat hanger wire. I only had to do the basic solder joint touch-ups to fix my problem. The fix has lasted over 2 weeks now. Thanks! What a service!!!!

Charlie Snedaker - Aurora, CO
snedaker@NOSPAMattbi.com

Email "Success"
Duane,

I just want to say "thank you" for this terrific website. I signed up around 9 this evening, went to Wallmart and RadioShack, stared the repairs, then had dinner and was finished before midnight. I have been intimidated by circutboards ever since I first opened up a computer, but now I feel much more at ease. This has been a tremendous success.

Sincerly,
Christian Flask
Flask0969@NOSPAMhotmail.com

Here's clips from feedback that I got from following up with people on 6/25/2003 on their various repairs, swaps, etc. from the web site....
Duane,
First of all, thank you for the follow up concerning the power supply board. I don't even give a second thought as to whether or not my display is lit up, because I have no doubts that it will lite. Power supply performing flawlessly. Do you know how rare it is to receive a follow up about anything these days. Keep up the great work.
Feel free to use my feedback! Hope this helps others considering either the fix or swap
program. Use my name anytime you need a reference. Also, if needed I will =
talk to anyone via phone.

Billy Vaughn - Birmingham, AL
bv147@NOSPAMmsn.com

------------------------------
Hi Duane,
My radio display is still working great! Thanks for the follow up and I think you have done a great job in servicing your customer. After weeks, the display for my radio still works great and plus the written warranty that you sent me, it was well worth the money. Thanks so much for the website and the information!!!

Thanks, Chong - Colorado Springs, CO
spikeclux@NOSPAMearthlink.net
------------------------------
Last week I was going to write you an e-mail, and let you know the display is
still working after about 2 months or so.

AOL purges their e-mail after a Month so I lost your e-mail address.

Again, thank for all the help. Its still working!

WJeffM@NOSPAMaol.com - Denver, CO
(Repaired 5/7/2003)

Email from a successful repair...
The display on my Ford Ranger Radio has been out for about eight months now after being intermittant for almost a year. I have been an electronics service technician for over thirty years so I figured with the display being intermittant for a year it must be a connection problem. I took out the radio and inspected the display board. Found nothing apparent but resoldered the display anyway. This did not fix the problem. I let it go until just recently when I found many companys on line that were advertising repairs for "no display". I contacted a few and would only repair if I sent the radio in. They gave me no info on self repairs. Then I found your web page giving me enough info for me to determine that the fix must be connection problems. I pulled the radio out again and traced to the power supply cba and resoldered many connections...no display! Again I pulled the radio out and resoldered many more connections...no display!! So this time I bought the password for "the fix". I followed the directions step by step and in twenty minutes the display on my radio was reborn!!!. I am very impressed by your web site and wish you the best of luck. My display has been working for three days now and I'm confident it will be permanent!!
Thanks again,
T. Miller - Erie, MI
mastertech7@NOSPAMyahoo.com

Email from a New Board customer....
Duane,
I installed the board...15 minutes and the display is back like new.

I did notice they have "lifted" the resistors. I also think I see the problem with my old board. 2 of the traces to the regulator/chip that you see on the bottom of the board are open. Mine was pretty badly burned.

Thanks again and add me to your list of happy customers.

Doug Warren - West Springfield, MA
dulor@NOSPAMcomcast.net

Email from a Swap Program participant....
Hi Duane,

Once again, I thank you for all you've done. I know it's only a radio display, but it's nice to get this kind of a treatment from someone who only a few weeks ago was but a stranger, but now seems more like a concerned neighbor helping another. The radio display, by the way, is working like a charm. You may use me as a business reference any time you wish. I wish you the best in everything you do in life, because you deserve it.

Thank you!

Dimitri Saad - Lawrenceville, GA
dsaad@NOSPAMcharter.net

Email from a SUPER happy guy (this one scared me at first...I personally don't kiss guys)...
I'm so happy, I could kiss you... and I don't like guys. I never would have considered trying to repair my Mountaineer's stereo, but when I was searching the web for a recall notice or a service bulletin describing the problem, I stumbled across your web site. When I saw how incredibly easy it was to remove the stereo, I thought I'd give it a try. The dealer wanted $600 to replace the unit, and not having a display had been driving me nuts the past four months. Although I do have soldering experience (I built 2 Heathkit tuners and 2 Dynaco amps (if you know what those are you must be at least 40), I haven't done any soldering for many years, and never with surface mount components. My display has been working for 4 days now, and I really appreciate your excellent documentation. I work with several EE's, and none have them have every written documentation that good.

Thanks so much,
Art Ringwald - Oakdale, MN
artringwald@NOSPAMjuno.com


Email from a Swap Program participant....
Duane,

Received power supply on 5-19 and promptly installed in about 20 minutes including removing radio. Works like a charm! I will return to you my original and do not require you to refund one red cent as this is worth every penny. Thank you

Billy Vaughn - Birmingham, AL
BV147@NOSPAMmsn.com

Upon asking permission to post his reply, this was an additional comment from Billy:
Be my guest! Again thank you for being honest and straightforward about everything. Also, with no experience at soldering I'm glad I chose the swap.

Here's clips from feedback that I got from following up with people on 4/30/2003 on their various repairs, swaps, etc. from the web site....
Hi Duane,
You fixed the volume control in my dually-remember? It's working great! Just wish I had found you sooner. But sure glad I didn't buy a new unit or even one off e-bay. Thanks a lot. Maybe you should offer that service also. Feel free to use this as a testimonial if you wish.
Regards,
Jim Stephens - jiga@NOSPAMshtc.net
------------------------------
It still works great!!!!
Sandeep Patel - spatel@NOSPAMspi-america.com

------------------------------
The radio display problem has been great. It has been working for 7 months now without a single problem. Thank you for the information.
Scott Vorpahl - svorpahl@NOSPAMadapteksystems.com
1998 Ford Explorer Eddie Bauer 4WD
4.0L SOHC V6 210HP
79,000 miles
------------------------------
The power board that I got from you is still working as is has since I installed it. Thanks again for all the help and encouragement you gave me on that project. I couldn't be happier. And the cost was well worth it.
Bill English - wlenglish@NOSPAMmsn.com

------------------------------
Hey Duane,
Things are still looking great on the mountaineer's radio. It is bright and we have seen no flickering. Great job! and I it looks like it is going to hold up.
Thanks for taking the time to e-mail your customers and I greatly appreciate you thinking of the well being of your customers.
Adam Wyatt, Pratt,KS - awyatt@NOSPAMhavilandcoop.com


A Short and Simple Email....
The fix worked great and saved me a lot of cash. Thanks!
Craig Hart
lhart@NOSPAMchartermi.net

Email from the Swap Program....
Good morning Duane,

Thank You, Thank You, Thank You!!! Received the new board yesteday. Did the swap when I got home last night and it worked like a charm. It was a great feeling see the display come back to life after being without it for a week. I hope to get the swap board on it's way back to you tomorrow morning.

Once again, thanks for all your help.

Gratefull in South Jersey....
Bob

PS: after you receive my old board, please let me know what you find. I have a feeling that my soldering skills are at fault. Just curious to see what you find.

Thanks again,
Bob
bobmcc@NOSPAMtricoequipment.com

Email...."It Worked!"
Duane,

I have not been living with this problem for long...I bought this Explorer "as is" about a week ago!

"As is" in this case meant no radio display. Checked Google and there you were!

I did it today...and it worked...wow! It took three times and the problem seemed to be on the resistor at 6 o' clock to the IC (Whatever all that means! One of your email messages suggested that position.)

Anyway, it worked and you saved me a couple hundred dollars over what the dealer wanted! Now if I could only buy a couple new tires for $19.99!!

I really appreciate your site and have it bookmarked in case it goes again or the volume problem arises.

Thanks,
Chuck Birch
Western Pennsylvania

Another Email....
Just writing back to let you know - another satisifed customer! :-)

Took couple of tries - first two unsuccessful with my old clunker soldering iron and large solder.

Then brought to work where they have "microscope" magnifying viewers, good soldering irons and very fine solder.

I have to agree ..when you see that 12:00 .. it is kinda profound ;-)

It's been 2 days now .. hope it will be a long time before have to tear it apart again.

Thanks for putting the site together - I wish I had that detail of pictures and words for all my repairs in life!

Good luck,
Bill
wandersen@NOSPAMnc.rr.com

Email from a Quest owner....
Duane-
You're the man! The radio in my 2000 Nissan Quest is working again! What a great feeling to have it working again, and not be out the $195-325 that the repair shops were quoting me. Forget the electrical engineering, and stick to writing repair documentation. You have a real talent. I simply followed your instructions in the 60 plus pages of well documented and photographed "fix" and inside of 30 minutes the radio was all lit up again. I ended up in the 3% category for repairs. My problem was not fixed on the first or second attempt, but was fixed by resoldering the three ground points as described in figure 13D-1. The center grounding point was visibly cracked. Once it was resoldered the radio was quickly installed and working!
I can't thank you enough for the service you provided me.

Tom Jackson
Dallas, Texas
tjacks@NOSPAMatt.net


Email from another Quest owner....
Hi D.,

Just thought I'd let you know that you helped another person. I have plenty of experience in soldering, and I thought I could figure it out, but it was nice to have all the info in one place. The fact that your page saved me the hours of trial and error is definitely worth the money.

By the way, some stats:

Vehicle: '99 Nissan Quest
Time to remove stereo: 10 min
Time to disassemble/reassemble: 20 min
Install and find out it still doesn't work: 2 min
Disassemble again and inspect some more solder joints: 10 min
Install and it worked!: 2 min

So in all, the fix was about 45 minutes. Not to shabby!

Again, thanks! It was nice to have someone else go through the troubleshooting process for me. :)

-phillip
par@NOSPAMadmiralexpress.com

Emails....
Hey Duane!
Just wanted to say thanks for 'the fix.' I was able to fix my radio today. It took only about an hour from pulling the radio to seeing the clock light up 12:00. Great detailed instructions and VERY easy to do. I actually went ahead and raised all the resistors like you suggested and also reflowed basically everything on the bottom of the board with new solder. THANKS A MILLION - well maybe more like $350 (the amount Lincoln wanted to charge me to send the radio back to Ford for the same fix).

Chris
AcwistonNOSPAM@aol.com

More Email....
Thanks so much for putting up such a helpful website. I was relieved to find out that my display problem was common, and even more relieved to find out that you had a do-it-yourself solution available. I have to admit that I was hesitant to pay the $20 for the help, but it was well worth it tonight. I had the display working again in about 90 minutes.

It's very funny that your site also includes directions on fixing problems with the volume control quitting. I had that problem last summer and paid about $80 to have it repaired at a local repair shop. I should have scoured the internet first for that problem, too.

Thanks again for the help and good luck to you with your job hunt. We are actually neighbors to some degree (I live in the same zip code as your P.O. Box, at least) so I will pass along any job tips that I hear about in the area related to your field of expertise.

Have a great day,
Jim Connor

and More Email....
Hi Duane-
I managed to fix the display by replacing the entire supply board with a new one (with the help of my hubby). I also replaced the volume control. The volume control was actually working, but flaked a few times on my husband on his way to work. We didn't want to have to pull the radio out again thinking it would go soon too so we decided to just pay the 20 or so dollars and replace that as well. Lisa at Speed-o-Tach was great. She gave me the deal that you told me about. I did mention that you sent me over to her. Hope that was ok.

I want to give you a great big pat on the back for the good work that you put into your website. I can see that you spent a lot of time organizing the information. It's very easy to find the information you need and the pictures are accurate.

Again, I can't thank you enough. You saved us a ton of money, and that's a good thing for us now that I'm a stay-at-home mom.

Cheers,

Lavern
lavern_lopez@NOSPAMhotmail.com

Inspiring Email...
Duane,
Thanks so much for the information, it worked perfectly on my first attempt. I now have a radio display for the first time in over a year. As soon as I reflowed/added solder to the connections it corrected the problem. It was a real leap of faith since I had never soldered before, but your directions were perfect.

I was a bit skeptical going into this, never realized how extensive the problem was and didn't expect to find much information on it. When the display went out a year ago I did a bit of research but never came across anything related to the problem. Finally got tired of a dead display and figured I'd do a little more research before buying a replacement radio. A neighbor, who's a master mechanic, said he's come across several dead Explorer displays and even suggested that I replace the radio since he was unaware of any way to fix the problem. I was also a bit skeptical as to whether I would have the ability to complete the repair, but after reading your instructions
it seemed very straightforward and doable.
As far as the soldering it really wasn't difficult to learn. Followed your link to the site which provided a brief overview and purchased the materials you suggested at Radio Shack. Since I figured I had nothing to loose (since I was already considering trashing the radio), and that I had the solder braid to undo any mistakes, I sat down and attempted the repair. Practiced for a few minutes with the solder over some cardboard just to see how it melted and to practice with the iron, and that was it. Reflowed the solder and added a bit to the areas you suggested, plugged the radio back in, and the display was working. So far it's been working for about 6 days with no problems. Overall the process was less time consuming and much easier than I expected.
Thanks again,

Mark Janeczek
mjbusiness@NOSPAMadelphia.net
(remove the "NOSPAM" for the valid email).

More Inspiring Email...
Duane,
A few months ago I looked up your solution and tried it. It worked! Removing the radio was the biggest challenge. I had never soldered before and wasn't sure that I had done it correctly, but it worked. The radio has be working for a few months now.

I was a little skeptical in going through the whole process, but I figured I had very little to lose. I figured that if it didn't work, I would purchase a new radio anyway. So, before going out and spending $300 for a new radio, I decided to give this little process a try.
The key for me was following the instructions that you posted on the web, as well as what I had read from some of the emails that you received. Anyone who does not think to search for this issue on the web or is not able to find the web site, will have to go out and dish out the big bucks for a new radio.
My advice would be the following:
If you cannot remove the radio, just go ahead and remove the section of the dashboard that contains the radio; you still have to use the clips (DIN removal tool) that you recommend, but it is much easier because you can see the back of the radio.
Thank you very much,

Emilio
emiliogonzalez@NOSPAMyahoo.com
(remove the "NOSPAM" for the valid email)

and More Inspiring Email...
Duane, you be the man. Let me just say I have almost zippo electrical
experience. I do have some skills with regards to manual dexterity (I'm
a surgeon), but the last time I used a soldering iron was in High School
Shop. I bought the supplies from Radio Shack (I also bought the Scosche
DIN radio removal tool from Wal-Mart) and easily removed the radio. I
took your advice and practiced on some circuit boards from a throw-away
game controller and then I took the plunge. I elected not to remove the
EMI shield, and just re-flowed the surface mount devices on the back
side. I got too impatient trying to re-flow around the transistors, so I
just added solder as best I could to these points. Put everything
together and saw the "12:00". My wife is truly impressed. Even if it is
only temporary, I have self-satisfaction. I'm forwarding the remainder
of the payment plus a little extra via pay-pal. I hope your employment
outlook become better for 2003, and thank you once again.

Ed Tyau
Yorba Linda, California
etyau@NOSPAMadelphia.net
(remove the "NOSPAM" for the valid email).

From a Nissan Quest Minivan Radio Repair...
Duane thanks again for fixing Sharon's radio this morning. I've been running around posting your website at a couple places and also saw you've been busy too. Hope this works out for you and you get allot of business out of it. You can send anyone wary tell them to drop me an email I'll vouch for you. Thanks again and hope your new years is a good one.
Larry and Family
sloopyboy@NOSPAMprodigy.net
(remove the "NOSPAM" for the valid email).

Nissan Quest Minivan Radio Do-It-Yourselfer...
Duane,
Worked like a charm. I pulled the radio out yesterday morning and spent about three hours examining and re-soldering every joint on the board (including the plate-throughs). I raised the power resistors as much as their leads would allow and swapped sides of the connector plug. I did find one definite crack on the R-1059 to IC-1051 solder joint.
There were probably more, but that one was the most obvious. I looked at every connection using a jeweler's loupe and the amount of poor / cold solder joints was pretty amazing. It kind of makes me wonder what all the other joints in the radio are like.

At any rate, the unit is back in the van and the display survived an entire day of driving.

Thanks,
Hal Craig
halos@NOSPAMcetlink.net
(remove the "NOSPAM" for the valid email).
UPDATE:
A couple of things I forgot to mention in my note:
1) I used a 30w iron to make your repairs, the idea being to get the solder very hot for as short a period of time as possible. This is just a personal preference.
2) The repairs I made were done under a fairly large lit magnifier as the board looked like a green rectangle with some shiny lumps on it, even with my glasses. Bridging a couple of points would have been a very easy thing to do.

The radio is still working perfectly.

Thanks again,
Hal Craig

More Inspiring Email...
Hi,
Last week my brother fixed my 99 Explorer radio using your advice. I will gladly send you the requested money.
My brother worked in a repair shop, he felt it best to re-soldered all the terminals on the errant board.
I have the extended warranty, so it would have cost me the $50.00 deductible for the repair, but I also saved me the aggravation of dealing with the dealer, and being without the radio for who knows how long.
Thanks,
Bob
bobmac674@NoSpamcomcast.net (remove the "NoSpam" for the valid email).

More email...
Just wanted to thank you for the info on your web site on the fix for the display on the cd/tape/am/fm radio in the Explorer. Worked like a charm. Found my problems on the R1050 and R1051 along with the ones you show in the pictures. If you have a paypal account or can give me an address I'll send you the cash. You took your time that you didn't have to and shared it with others so maybe this will help. Thanks again.
D. Schrecker
DSchrecker@NoSpamaol.com (remove the "NoSpam" for the valid email).

Ford Radio Repair...
Thanks for the info. on the radio repair. Those were great instructions. Send me your address as I will be sending you my gratitudes along with some money. Thanks again.
I used a 15 watt soldering iron I got at Radio Shack for $7 and some .032 solder. The low wattage iron will not damage the electronics easily or remove the metal strips from the circuit board. I just resoldered a few components that looked suspicious and hit all the other solder joints to remelt them just in case.
The radio works fine now. Thanks for your website and the info. It saved me about $150 bucks. I'm telling everyone I know about your website.
M. Leach
mleach2@NoSpamtva.gov (remove the "NoSpam" for the valid email).

I fixed my ford radio!
I searched the internet using key words "ford" "radio" "display" and eventually found your article. I ran off to Radio Shack and purchased a 15W soldering iron and I melted the solder at the connections you listed. I reassembled the radio and tested it in the car. Result: it works.

Steve in Florida
Hedrick55@NoSpamaol.com (remove the "NoSpam" for the valid email).

Ford Radio Repaired After Being Out For A Year
Hello,

Thank you for the Ford radio fix you posted on your site. I tried the fix yesterday. It took a couple of tries, but the radio display is working again.
Thanks,
Sandeep Patel
fordradiofixed@NoSpamspi-america.com (remove the "NoSpam" for the valid email).

1999 FORD EXPLORER DEAD RADIO DISPLAY
BINGO! It worked. I started out last night de-soldering and re-soldering 2 or 3 of the first 5 resistors/capacitors that you referenced on your website. Plugged it in, but no cigar. Took it back out and did the same thing to about a half-dozen other components (didn't touch the IC's or transistors, but I did address one diode connection). Plugged it back up for the 2nd time and, wallah! Lights! Thanks, I'm definitely mailing a donation.

William Camp
Mobile, AL
D2CAMPS@NoSpamaol.com (remove the "NoSpam" for the valid email).

Re: Ford Explorer Radio fix
Duane,
You are the man! The fix worked! It was actually pretty simple. My Explorer was just 500 miles out of warrenty. The dealer said it would cost $575 to fix. I told them to stick it! So thank you for all your help, it was the best money I ever spent.
Harris

Inspiring Email
Duane,
Like others in your list, I tried once and failed. Second time, I dragged out the heavy artillery and re soldered the entire PCB. It went back in and worked without a trick !! Let's see how long…

Thanks for saving me a few bucks !!
Ford should be ashamed …… the wave soldering on that board was third rate at best.
At Your Service,
Wade E. Burt
Microsoft Certified Professional
WadeBurt@NoSpamWEBonTheWeb.Com
(remove the "NoSpam" for the valid email).

Inspiring Email
Hi Duane,

It took me two tries but I finally must have re-soldered the culprit. It's
working like a champ and the better half is just thrilled. Thanks for your
tips and common sense approach.

Kerry Barnard
St. Michael, MN

Some more flattering comments...
Duane,

Thanks again for all your help, You saved my life, Jack
Buehler_J@NOSPAMkonica.com
(remove the "NOSPAM" for the valid email).

This email sums it up nicely...
Thanks for the REPAIR. IT WORKED!!!!!!!!!!!!!!!!
Steve Simpson
thunderbat94@NOSPAMhotmail.com
(remove the "NOSPAM" for the valid email).

Another enthusiastic email...
Eureka!
Duane, YOU ARE THE MAN!
I gave your instructions to my friend Bill who's a soldering instructor for the U.S. Air Force, and it worked!
I was so glad to use my radio again.
I listen to CDs almost exclusively, and when I fixed my radio I found that CD shuffle was turned on and I didn't know it--I didn't even know I had CD shuffle.
The moment I turned my repaired radio on I saw CD SHUFF on the display. I turned it off, and now I have a normal CD player again. You don't know how frustrating that was to have my CD under the control of some psuedo-random computer circuits.

Thanks Duane!
Rock on,
Jim
biggerjim@NOSPAMhotmail.com.
(remove the "NOSPAM" for the valid email).

Another enthusiastic email...
Mr. Harrison:

Thanks to you and your web site, our Ford Explorer radio display works again ! The whole repair took well under an hour. Your instructions complete with photos and postings of others were excellent. Well worth the $20 !

As others have said, it is really nice to have the display working especially for only $20 and the $3.50 or so for the radio removal tool.

By the way, you should consider a new career writing instruction manuals for companies. Clearly, you have a talent for it based on what I have seen from your web site.

Again thank you !

M Oprysko
moprysko@NOSPAMrcn.com
(remove the "NOSPAM" for the valid email).

Home Page Radio Removal| Ford/Quest "The Fix" CD Eject Error Fix Chrysler / Jeep Fix Save My Sanity Instructions

Mail Payment PayPal Payment Success Emails Post a Comment Other Explorer Issues Disclaimer Sponsors
NOTE DISCLAIMER: I will not accept liability for anyone's repair attempts. This information is posted for informational purposes only. Don't try this without proper training. Any repair attempts are at your own risk. It may not be the same problem that mine had. Don't hold me financially liable to any damage or expenses you may incur. This fix suggestion is not meant to put anyone's audio repair business out of business, etc,...