Repair Instructions for the BOTH the Blank Display and the CD Errors of this radio....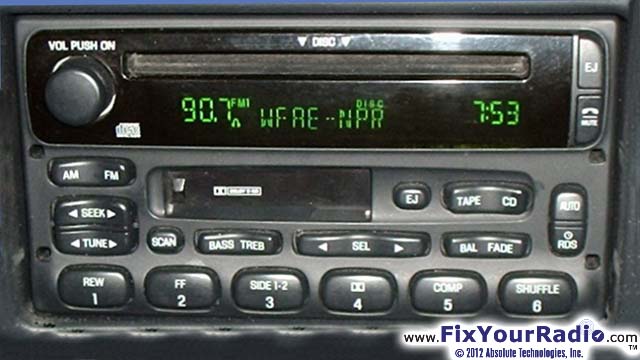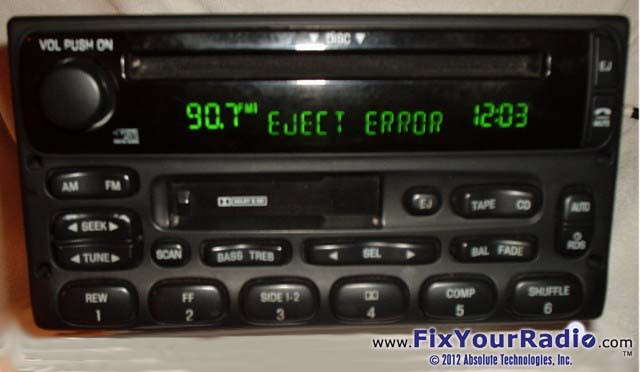 Figure 1 - Problematic Ford MACH Radio with Blank Display Issue and CD Errors
You can click on the PayPal icon below to make your payment via PayPal (Visa, Mastercard, Discover, etc. accepted via PayPal).
COMBO REPAIR - DISPLAY / VOLUME CONTROL and CD EJECT ERROR ACCESS
(Ford/Nissan)
Click one of the above Icons to Purchase the
Combo Display/Volume/CD Eject Error Access
$29.99
NOTE:
Your login and password will be immediately sent to the email address that is registered with your PayPal account. If this is not the proper email address you want the login and password sent to, please send a note with the proper email address, however, there will be a delay as the email will have to be manually processed. If you want to avoid any delay, make sure your PayPal email address is correct.
MAKE SURE YOUR EMAIL IS CURRENT AND CORRECT IN PAYPAL TO AVOID DELAY ON DELIVERY OF YOUR LOGIN AND PASSWORD.
If you realize that your email was not current when you confirmed your PayPal contribution, please send me an email (dharrison@ab-tech-inc.com)
Once you have your Username and Password, you can get to the repair site here:
Display and Volume Control Repair
http://www.shareamemory.com/radio/the_fix/
CD Error Repair
http://www.shareamemory.com/radio/CD_eject_error/
You may check the status of the server that supplies the password from PayPal by sending an email with the subject "Check Radio Repair Server Status" to server@shareamemory.com. You should receive an email reply back within minutes showing the server is active (if you do not receive a reply, there may be a delay in processing your login due to technical difficulties, but it will still be accepted). This will also give you an idea on how fast you should receive your personal login and password.
NOTE: Microsoft's Outlook Express is sometimes set not to allow viewing of attachments due to security issues (this may have been set automatically without your knowledge by Microsoft). If you are unable to read the attachment that is automatically sent to you once you donate via PayPal, try this: In Outlook Express click Tools, Options, Security and uncheck the box by "Do not allow attachments to be saved or opened that could potentially be a virus". You may re-enable this once you have had the chance to get your login and password from the email attachment that is sent.
Or, if you don't use PayPal, then your payment can be sent to:

Absolute Technologies, Inc.
Attention: Ford MACH Radio Combo Display & CD Error Repair
PO Box 601
Holly Springs, NC 27540

Please include your email address so that your access can be emailed to you.